Citroen Saxo Fibreglass Bonnet Mk1 With Smoothed Eye Brows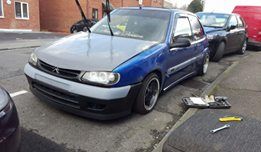 Citroen Saxo Fibreglass Bonnet Mk1 With Smoothed Eye Brows
Grp Citroen Saxo Fibreglass Bonnet Mk1 With Smoothed Eye Brows
Price includes 20% Vat

Includes one Bonnet in a wet lay up Grp construction intended for Motorsport use.
Gel-coat colour may vary from picture and we advise item is trial fitted before being painted and fitted by professional fitters with bonnet pins.
This Grp bonnet only weighs 5.0kg!
Which is quite a saving on metal originals
They have an Grp inner frame bonded to the outer skin for good rigidity and feature moulded-in threaded inserts for mounting to the hinges. The hinge mounting area is reinforced to give added strength in this vital area.
Due to the nature of construction the finish is very good but not perfect.
These Products are

Uk Manufactured

in house

with over 35 years experience in the Grp.
We only use Lloyd's approved materials on our products.
We try to keep all these panels in stock all of the time ready for next day delivery.
P&P charges for mainland UK will be added at the checkout.
Please contact us for international postage costs before ordering.